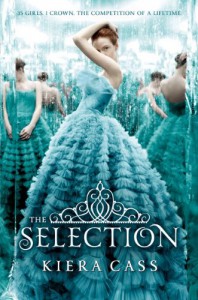 3.25
stars.
It's been awhile since I've read a dystopian novel and I realize...I freakin' missed it.
Now. Now. I've been meaning to read this since it was published last year but I've read some controversies regarding the author,
bad
ones and I have decided to put it on hold because I got tired from reading dystopian novels (I've been reading a lot from that genre last year that I haven't actually finished...now I have to reread the first few chapters
again.
damn.) I actually have the copy since last year but decided to read it just now because I missed that genre and well, yeah.
Despite the author's negative image (I don't actually know the details, I should've researched and googled it first...but I'm being lazy these days...so.), while I have to admit that I'm not much of a fan of
the bachelor
(since it's like a crossover of that, plus the
the hunger games
and I LOVED that series, btw) the book was actually a fine read for me. And I'm on that point where I have to root for a team once again! God, I missed this. But, I have some issues with the book though. Yes, I have liked America, actually on the mid-to-the-last part-ish of the story not on the first part (maybe a little bit) but I have to say that she's indeed a mary sue to me. Aside from that, there are alot of things thst weren't explained thoroughly...but I guess it will be on the next two books. After all, it's a trilogy,
for chrissakes
. Although I adored the Prince Maxon (I guess I'm still a little bit hungover from a royalty themed story that I have read recently) and yes, he is likeable...but then, I haven't connected with him and he's a little bit 'off' with me. Aspen is actually sort of exasperating...but then I actaully get where he is from and though I really do feel a little sad for him...but, hah.
I might probably read the next book one of these days. If I will not get distracted.